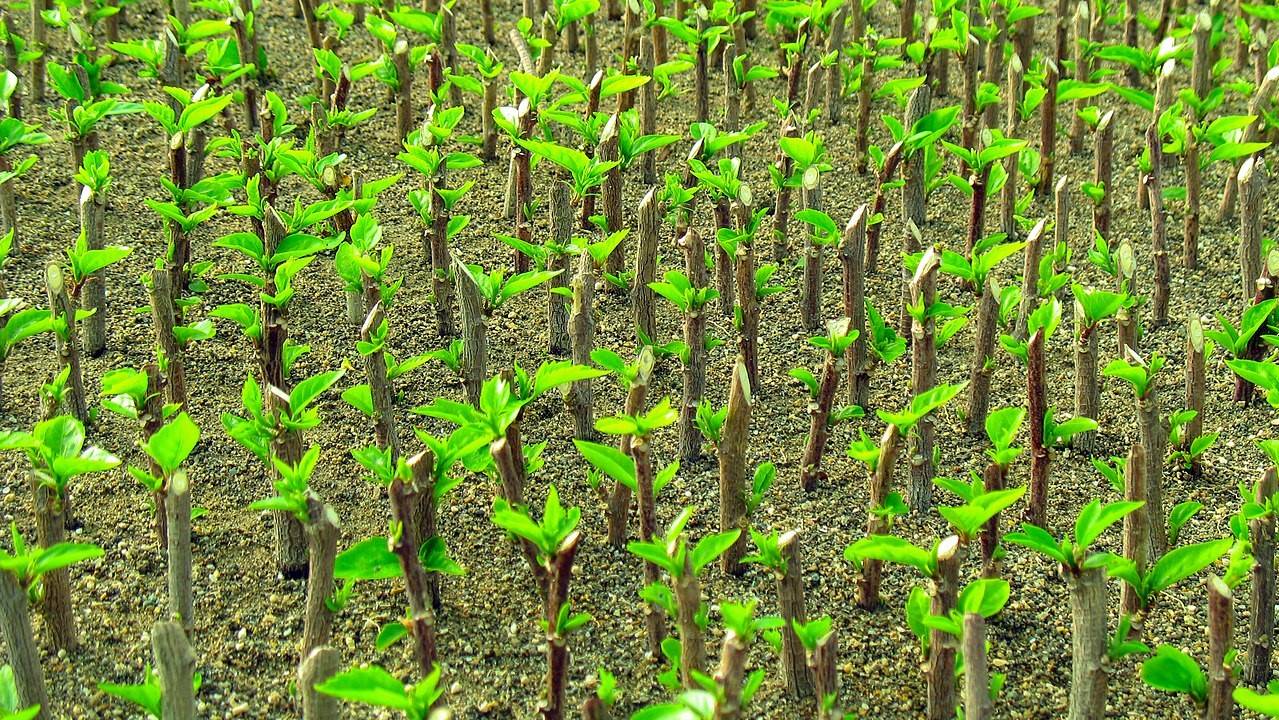 Raintree Nursery invites you to use the growing skills you have been acquiring over the years to produce plants for us. Plants must meet our standards for size, quality, and ship ability, as well as certification and quarantine standards for shipping within Washington and shipping to other states (requirements may vary by state).
We are currently interested in Fruit Trees, Nut Trees, Mulberries, Currants, Gooseberries, Strawberries, Grapes, Blueberries, Hops, Herbs, Paw paw, Kiwi, Elderberries, and Honeyberries. The highlighted crops would need to meet either the required or voluntary certification standards of Washington and be certified by WSDA to be shippable either (or both) within Washington or to other states, depending on the regulations. See the resources section for links to the certification programs.
If you are interested please contact us by filling out the form located here. Let us know what kind of crop you are interested in producing, including potential varieties (if known) and whether the plants will be potted or bare root, so we can discuss potential quantities and preferred target delivery times.
Regarding container plants:

All containers must have a solid enough bottom that a ¼" bamboo stake will not pass through.
For the 4" container size we prefer the 3.5" square x 3.5 to 4" tall pots.

Gallon pots are industry standard 3 qt volume, not a true gallon.

Other pot shapes, such as tree pots, not to exceed 4 quarts volume.

We do not ship larger capacity containers than 4 quarts.

All plants must be well enough established in their containers that the root ball holds together when removed from the pot and resists falling apart

when lightly squeezed, with a minimum growing time in the pot of 3 months.


Finished Plant height, including the height of the container:

1-to-4-quart pots – 34" maximum, plants may be trimmed to this height provided their appearance is consistent with the type of plant (multi-stemmed bushy or single stem tree). Single stemmed trees should have a minimum caliper of ¼" measured 2-4" above the soil surface.
Potted fruit tree (Mulberry) 30 - 45" (min/max), minimum caliper at 2-4" above the graft ¼".
4" pots – 8-10", depending on the flexibility of the plant.


Due to the regulations of some states we ship to, potting media must be artificial, not containing any soil derived from the ground.

We prefer no compost as a potting media additive due to its variable nature.
Pests, Diseases and Weeds
All plants must be visually free of harmful pests and diseases, including spider mites and aphids. All plants must be free of Brown Garden Snail (Visually free of Helix aspersa) and Black Vine Root Weevil (including grubs in the pots). All plants must be visually free of weeds, preferably including liverwort, pearlwort, chickweeds and other fast growing winter time weeds.
Height, not including the roots, 12-24", depending on the type of plant, with a well branched root system.
Height, not including the roots, 12-18", (grapes with a minimum of 3 vigorous buds).
Height, including the roots, 4-5', with a caliper of 3/8" -5/8", depending on the type of tree. Straight trunks and strong roots are preferred over lots of branching.
If you are in a state other than Washington, please check with your local department of revenue to find the appropriate application.

Practical woody Plant Propagation for Nursery Growers by Bruce MacDonald
The Reference Manual of Woody Plant Propagation by Michael Dirr

Internet searches can yield useful information as well.