SHIPPING POLICY & GUARANTEE

Important: We are shipping potted plants only; if you live east of the rocky mountains or in the southwest of the U.S., we encourage you to wait to place your orders until the weather is much cooler. Due to transit times and heat exposure, we ship 'Eastern' orders Monday-Wednesday. Please consider these are live plants that will need water, and 4-5 days in a box is not suitable for them during the summer heat. Due to this, your plants may not arrive in the most satisfactory conditions. If the temperatures are too hot, we may hold your order until a more reasonable time. Thank you for understanding!
We can not ship potted items to Hawaii.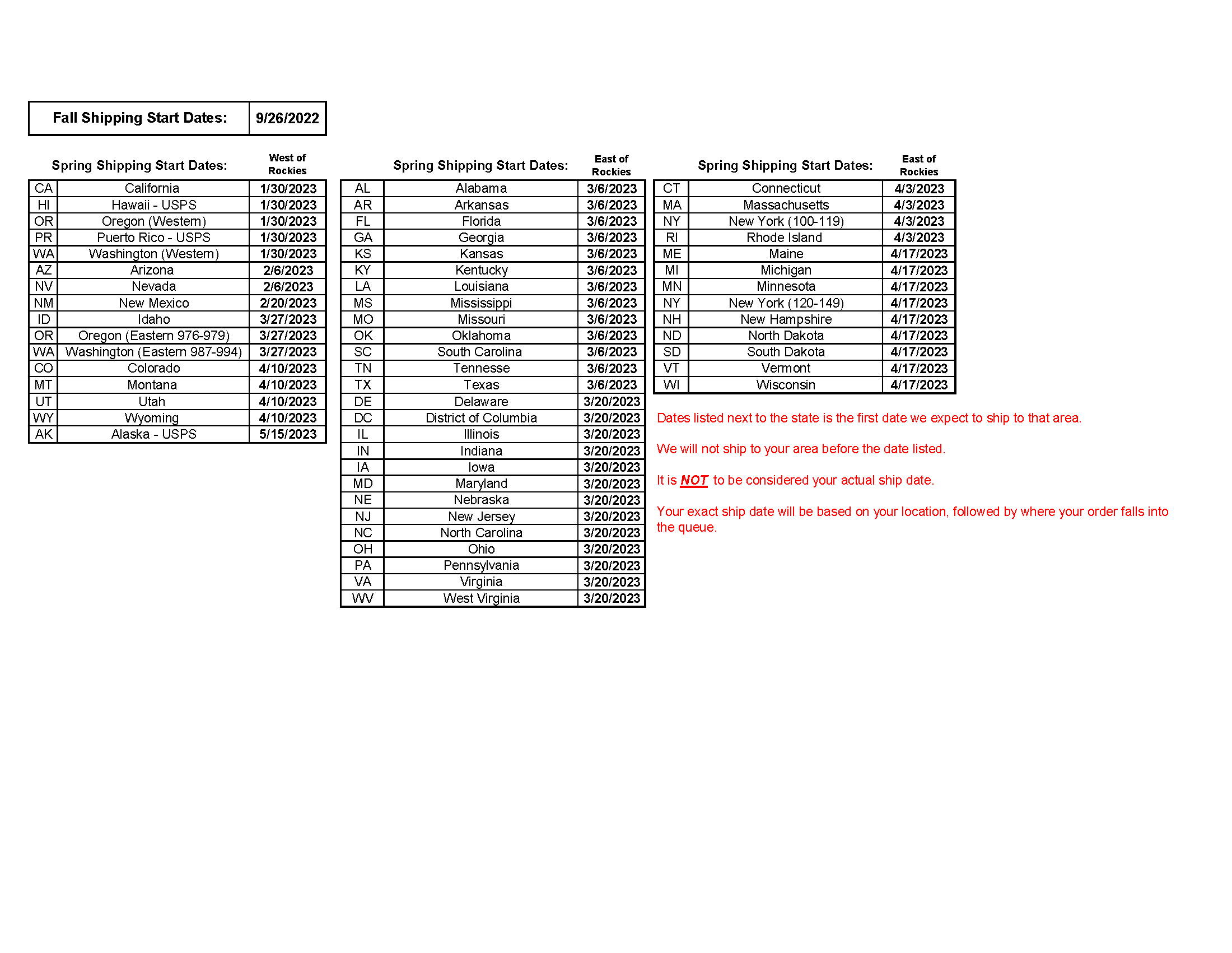 The table above shows the date that we plan to begin shipping to your state. We base these dates on the average weather conditions in your location at that time of the year related to your optimal planting time and our ability to get your order to you.
Typically from Late-January through May, we ship most of our orders during this time frame.
Pre-Ordered orders start shipping late January, weather permitting. We prioritize orders to western locations first. For customers in HI and PR, we will begin shipping to you in late January. We start to ship into south AK in mid-April and the rest of AK mid-May. Due to the high volume of orders or inclement weather, it may take multiple weeks to ship your order. In these cases, we will try to get your order to you at your optimal planting time. Requested select ship dates will be honored to the best of our ability but cannot be guaranteed. Beginning mid-March, our first zone skip truck is scheduled to ship out, starting with southern states and alternating weekly to northern areas as the weather warms. On alternate weeks we will continue shipping to western locations in the same manner. When you place your order, the ship date given to you is not an exact ship date but rather the estimated shipping week based on our average shipping times. Most orders ship via UPS Ground. For customers in AK, HI, and PR, we can only ship to you via USPS.
Typically from June through August, we do not ship bare-root or container plants during this season. Books and supplies are shipped nationwide via USPS or UPS on Tuesdays and Thursdays.
Typically from mid-to-late-September through early-November, we do not ship bare-root plants during this season. We will ship container plants to cooler locations first and warmer areas when they begin to cool down. Books and supplies ship year-round.
If you place an order that consists of items that are available for fall shipping and bare-root items that will not be available until the following Spring, your order will not ship until Spring. If you would like the available fall items to ship during the fall season, please note on your order. You can also call or email customer service, and we will help you with this. Most orders ship via UPS Ground. For customers in AK, HI, and PR, we can only ship to you via USPS.
General Shipping Information
Shipping rates are calculated in your cart at checkout and based on your order total. Please make sure you have entered your shipping information correctly and, most importantly, your street address, zip code, and state.
If you have entered incorrect information or need to change the address we are shipping to, we reserve the right to charge you for the new address's updated shipping cost. If the value is less to the revised address, we will refund you the difference. If we have already shipped your order and it is in transit to you and needs a change of address, you may incur the UPS charge of $17 to your billing information.
Once your order has shipped, our order management system will send you a tracking number, so please be sure to give us your email address to be informed of when your parcel is arriving.
Orders can arrive in as large as a 60x16x14 box and sometimes in multiple packages. We also carry many different sized containers to accommodate the size and amount of your order.
Bare-root items are stored in our cold storage facility to ensure they stay dormant, and that allows us to ship them to you in optimal condition. We only bring them out of storage when your order is ready to ship. Bare-root items we sell are only available to ship on Spring orders.
Container plants that are in stock are stored and taken care of here at the Nursery. Some items we carry may not be in stock due to selling out of the previously available stock quantity and the new crops growing need time to develop. Some of the new crop items will be available for Fall shipping. You can check their availability on our website.
Books & Supplies are available to ship year-round depending on stock quantities. Weather permitting.
Zone Skip is for our customers who live East of the Rocky Mountains. This method of shipping allows us to deliver your items to you in the best condition possible. We load your orders onto a 53' temperature-controlled semi-trailer, and our transportation partner drives them to the UPS CACH in Hodgkins, IL. From there, they are distributed via UPS Ground, allowing your package to be in non-temperature-controlled transit the least amount of time possible.
This page's information is subject to change based on weather, carrier delays, stock delays, or other unforeseen circumstances. It may be updated to reflect our policy at that time.
Raintree Nursery Plant Guarantee
We supply quality plants. Our plants are guaranteed to arrive alive and well and be true to name as labeled.
When given proper care, they will leaf out. We are proud of our 99% success rate.
For claims of unsatisfactory plants, shortages or incorrect item(s) received, you must notify us within seven days of receipt of your order to be eligible for a full refund.
Call or email customer service immediately, and we will work with you to correct any problems. If your plant fails to leaf out and grow, and you believe it was defective, notify us by August 1st of the season you purchased it. We will place a one-time credit for the price you paid, minus the shipping cost and any price differences in your Raintree account towards future purchases. We will cover up to 10 units of a single product and then 10% of the remaining units.

Sale items are guaranteed at the sale price. Bonus items and seconds are not guaranteed.